This marks the weekend of my little sissy's bachelorette part. Â I arrived to Minneapolis at 1:15 pm yesterday just in time to head to the Mall of America to do some last minute shopping for the weekend. Â I was starving when we got there so I ate an undocumented turkey pita with tzatziki sauce. Â  Man…. I love that stuff! We also both bought new dresses for tomorrow night — the big festivity:)
When we got home from all the preparation shopping, we made ourselves Moscow Mules. Â This drink must be drank in a copper cup (as pictured). Â It contains Ginger Beer, Vodka, and Rose's Lime Juice. Â The copper cup allows them to stay really cold for a long time and definitely adds to the taste. Â They are very refreshing.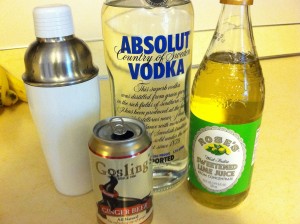 We also got the "spread" on the countertop ready for the other girls to arrive later last night and today!
We had a low-key night last night waiting for everyone to arrive and prepping ourselves for today! Â First up, pontoon boat, then later progressive dinner around the Twin Cities! Â Have a great Saturday!