Many people think that there isn't much to do in Phoenix in the summer because it's so blistering hot.  Through being in here in the summer and not wanting to reverse hibernate, I've compiled a list of things to do:
1. Go Tubing on the Salt River – This is such a great thing to do in the summer (mostly because it's only open summer months) but because you get to be outside without getting heat stroke.  This is fun to do with just your significant other (as David and I) or with a huge group of people.  You can bring whatever you want on the river, including food and drinks.  People get pretty creative out there I must say.  There are radios, contraptions to drink liquor out of, floating coolers, and lots more fun stuff!  It costs $15 to rent a tube and get a bus ride to and from the river from the parking lot!  It takes around 3-4 hours for the long trip and about 2 for the shorter trip down the river.
2. Go To A Baseball Game at Chase Field – This is convenient because when the heat is really scorching (as most days in Phoenix), there is a cover for the stadium to keep it a nice, comfortable temperature.
3. Go For A Hike – I know, I know, it's hot, but with the sun rising about 5 am in the summer, it's not too hot to get outside then and see some great views of the valley.  It feels good to get outside in the summer, and well for Phoenix, this is the time you gotta go!  Some great hikes include South Mountain, the White Tanks, Camelback, and Squaw Peak.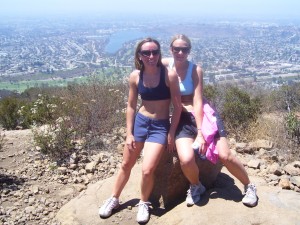 4. Pool Parties – This is obviously somewhat similar to tubing on the Salt River, but you don't have to go out East to enjoy the water.  All apartment complexes have pools, and there are public pools resorts for pool usage.  The resorts in Phoenix are significantly less expensive in the summer months, so a nice stay-cation could be an amazing weekend:)  Also, the Mark Taylor apartment complexes are hosting pool parties at various properties around the valley each weekend.  They have free food and beer–win-win situation!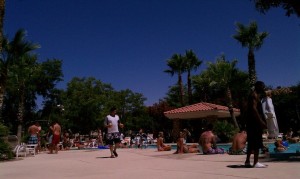 5. Get happy hour in Old Town Scottsdale – This one isn't just for the summer, but its really fun down there.  There are a ton of restaurants with good happy hour deals, so go check it out!  Some good restaurants include: RNR, Yard House, RA Sushi, Stingray Sushi, Kona Grill,  Salty Senorita, and Stax.  There are many more, but these are my faves!
6. Register for a 5k run/walk – The Arizona Road Racers do a great job of getting the running community together in the summer with the summer series.  There are 5 races from May to August at various popular running locations around the valley.  There is only one left, but it's definitely worth going out there for it!  It's Aug. 14th at South Mountain.